The Waipa Valley

Commercial and Industrial Land Opportunities
Waipa Valley Business & Tourism Centre is a mixed use tourism, commercial and industrial business park development on 90 hectares in the Waipa Valley, Rotorua.
Located just 5 minutes south of Rotorua, the Waipa Valley is home to Red Stag Timber, which is the largest structural saw mill in Australasia.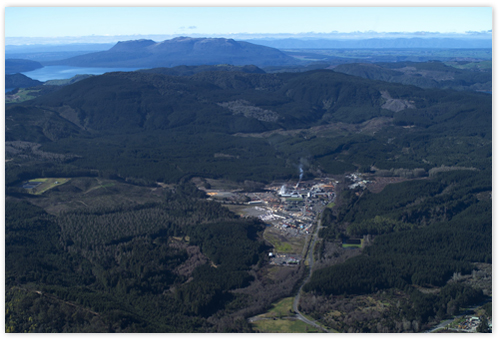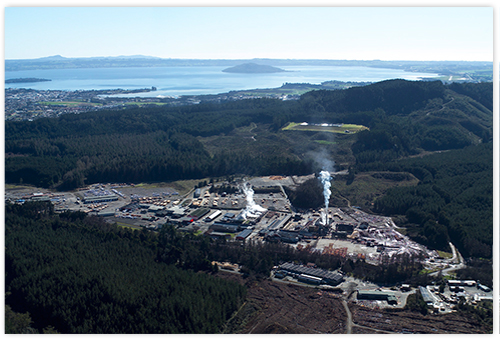 RSI has a range of sites available for lease and development, which can be customised to suit the specific needs of all types of commercial, ancillary retail, tourism, light industry and heavy industrial businesses. Currently, cornerstone tenants include: Red Stag Timber, Mountain Bike Rotorua, Kopcoat and Full Circle/Envirowaste.
Light Industrial/Commercial Precinct
RSI is working towards establishing a turn-key investor-ready 5.9 hectare light industrial business precinct to the south of the newly proposed re-routing of Waipa State Mill Road.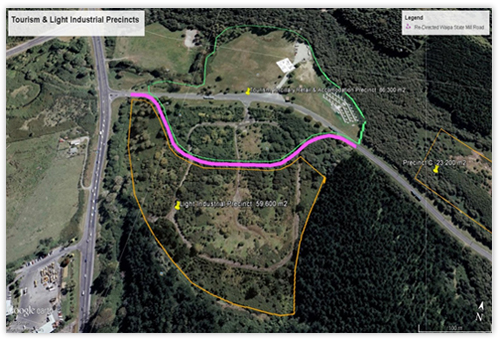 The light industrial precinct offers opportunities for business of various sizes and activities to establish and operate in a higher profile centre along the proposed rerouting of Waipa State Mill Road. With a tranquil natural forest backdrop, the precinct offers high profile direct access to the main highways and enabled zoning allows for most operations to be consented under the new district plan. Viable examples include truck depots, maintenance work shops, storage/warehousing, light machining and processing facilities, etc.
The location is central, with excellent road networks to Rotorua city, Taupo, Tokoroa, Hamilton, Whakatane and the Port of Tauranga all under 110 kilometres via road. This zone is being developed on a demand-driven basis. While it is still in the early planning phase, RSI is actively seeking to incorporate and customise the development sites and amenities to suit the needs of businesses.
The vision is to extend the current heavy industrial precinct to complement the existing biomass processing and related business activity within the valley.
This is the final release of 8-10 hectares of investor ready land, on the outskirts of Rotorua city that is currently zoned for industrial applications.
The sites excellent access to major transport networks, combined with enabling consenting, and existing infrastructure is a unique and extremely beneficial trifecta to support business development.
This project is being developed on a demand-driven basis. RSI will customise the sites and amenities to suit the specific needs of interested businesses.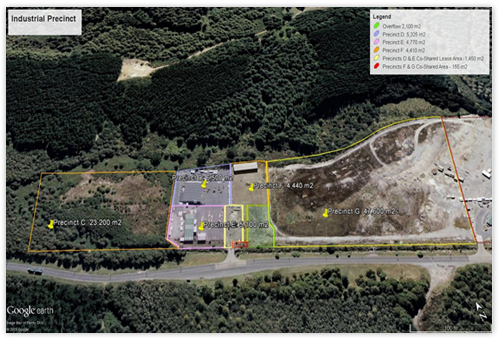 Waipa Valley Business & Tourism Precinct - The Opportunity
The valley is already home to a number of industrial businesses, clustered around Red Stag Timber's Waipa Mill.
Sites are available for new businesses, wishing to locate to the valley. RSI recognises that companies have different criteria for establishing businesses, therefore offers a variety of options to support development. The land is being allocated and developed on a demand driven basis. This means that sites will be customised according to the needs of the business. The preferred transactions are pure land leases or purpose built design and build, with a long term lease back agreement; however other options will also be considered.
The history of similarly planned and executed business park developments around the world demonstrate that as the variety and depth of businesses expand, new synergies lead to an increasingly vibrant commercial environment.
With the Waipa Valley catering for the complete spectrum of business and recreational activities and associated draw cards, it establishes itself as a superb business base for a wide range of companies and personnel in the future.
The Business Advantages of Being Located in the Waipa Valley Include:
Location:
Proximity to other industrial and commercial businesses, particularly with a relationship to the forest & wood processing industry:
Proximity to Rotorua city :
A stable and versatile labour force with a well-established skills base and access to training facilities in all sectors
A unique living environment
New Zealand's premier tourism destination
A well-developed service sector
A well established and publically recognised business and recreational centre:
A unique zoning that allows for heavy industry, light industry, commercial, tourism and recreational zones
The industrial zone is available for immediate development and under the new district plan is already heavily consented for most industrial activities
The zone builds on the scale of infrastructure and employment created by the largest structural wood processing site in the country
Due to the established history, the Waipa Valley is fortunate to enjoy the support of the local government which encourages development in the region
Well-developed infrastructure:
Private road access
Excellent State Highway access(SH5)
33KVA electricity provision
Assured water supply
Natural Gas supply
Private waste water treatment plant
Connection to municipal waste system
High quality telecommunications
Flexibility of deal structures
Rotorua as a Business Destination
Rotorua, with a population of approximately 80,000, is one of the main centres in the North Island of New Zealand.
Rotorua provides a unique lifestyle and centrally located geographical position, which combine to make it an attractive place to establish businesses. Highway access to the major export ports of Tauranga, Napier and Auckland, along with direct flights from Rotorua Airport to Auckland, Wellington, Christchurch and Sydney make Rotorua an easy base for exporters and international travellers alike. Rotorua city centre is six minutes away and Hamilton, Taupo, Tauranga, Tokoroa and Whakatane are each located within a short easy drive.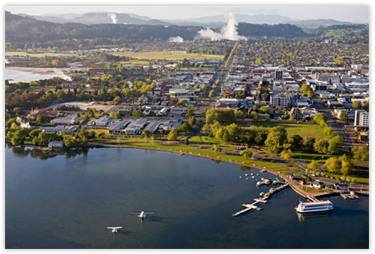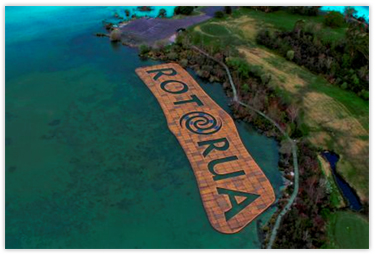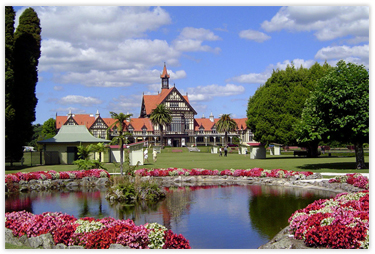 The main industry sectors of Tourism, Forestry, Wood Processing and Agriculture are well established within the region and are supported by the growing manufacturing, education, research and technology sectors. Because so many businesses already operate in this area, the city-wide infrastructure exists, including an excellent roading network designed to cater for the millions of visitors to the city every year. Rotorua also has excellent telecommunication reception and transmission facilities for regional, national and international links in all major modes. The district's labour force is stable and versatile and has a well-established skills base and access to training facilities in all sectors.
More details on Rotorua are available on the Economic Development website.
---
Waipa State Mill Road

Waipa State Mill Road is privately owned by the group, providing cost effective 'off road' access for traffic servicing the precinct.
To support the flow of traffic, a new bypass route is proposed for Waipa State Mill Road that will direct heavy traffic away from the tourism and mountain biking hub for improved safety of recreational users, while improving the flow of heavy traffic into and out of the valley. The proposed bypass will also make land available for an increased number of sealed car parks.
In creating a bypass, the solution will improve the access and development of the light industrial precinct in the 11 hectare block adjacent to State Highway 5.
Red Stag continues to invest in the infrastructure with a new 33 kV substation scheduled to be commissioned in the valley in 2016 to support the stable supply of energy into and out of the valley (Red Stag is predominantly energy neutral, utilising renewable wood residues to produce process heat and electricity).